Medium Duty Freestanding Jib Cranes
Our medium duty jib cranes are designed for an economical solution at capacities of 1 ton and under. These jibs are perfect for light applications with intermittent use.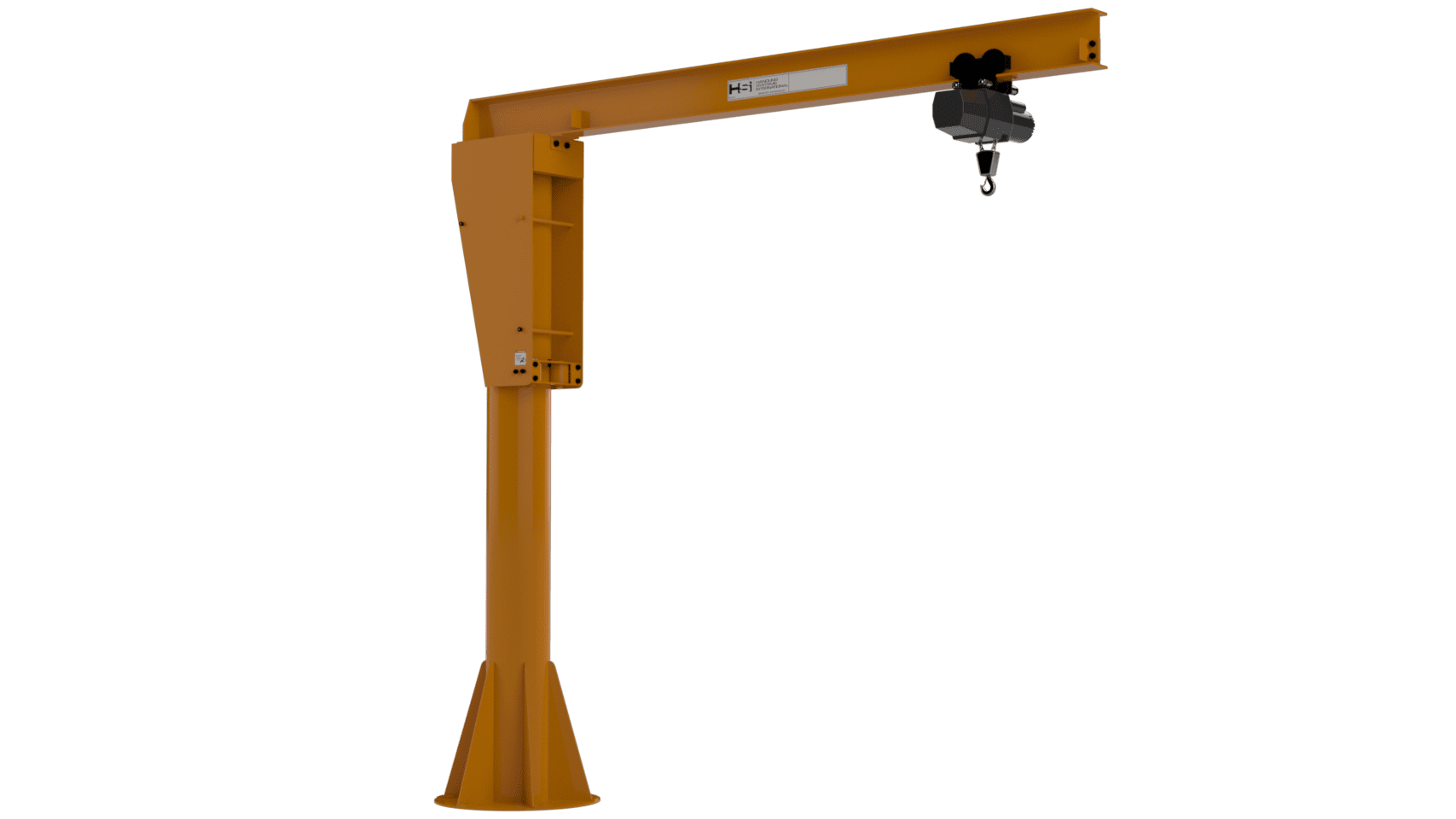 Heavy Duty Freestanding Jib Cranes
With the most robust design in the industry, our heavy duty jib cranes are engineered and manufactured to withstand the test of time. Click on the link below to see the wide range of sizes available.
Portable Forkpocket Jib Cranes
Looking for a jib crane to service several areas throughout the shop? Don't want to pour a foundation?  We have just the solution with our portable forkpocket jib crane.  Available pre-filled with concrete or hollow; let us provide the right portable jib crane to meet your needs.
Wall/Column Mounted Tie Rod Style Jib Cranes
With the smoothest rotation and lowest deflections in the industry, our tie rod style jib cranes are the perfect economical solution.  With capacities up to 12 ton, and spans up to 35 feet, the H.S.I. tie rod style jib crane can be built to your desired specifications.  Available in manual and motorized rotation.
Wall/Column Mounted Cantilever Style Jib Cranes
Maximize headroom with this column/wall mounted jib crane.  Rotation is a breeze thanks to our heavy duty fittings and frictionless roller bearings.  Available in manual and motorized rotation.
This 360 degree rotation jib crane requires no foundation and is as easy to turn as your brand new truck.  This is a great solution when pouring a foundation is out of the question.
Handling Systems International Freestanding Articulating Jib Cranes can help to position loads in hard to reach places. They are perfect for manipulating around columns, corners, and in and out of narrow passage ways.
Telescopic Boom Jib Cranes
Available as an option on all our jib cranes, let us provide a custom solution that meets the exact needs of your customer with a telescopic boom extension on a jib crane. Available with manual or motorized boom extender.
These jib cranes work great when coupled with overhead cranes. Save the overhead crane for the heavy loads and make better use of time while servicing multiple workstations with an overhead wall traveler jib crane.
Subscribe to stay up to date