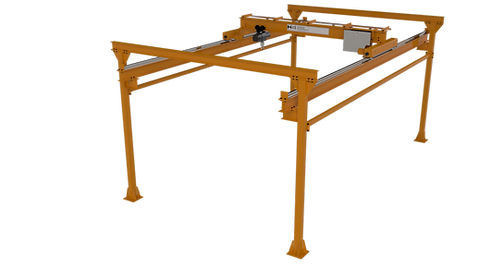 Model 491/493
Olympus® Free Standing Top Running Bridge Crane System
The OLYMPUS® Free Standing Crane System is a perfect solution for situations where overhead crane installation is otherwise difficult or impractical. Because the runways are usually installed above the floor without footers, OLYMPUS® Cranes work
well in pre-cast concrete buildings.
Since all connections are bolted rather than welded, the OLYMPUS® can be easily dismantled and moved to another location, an advantage when used in a leased building. The OLYMPUS® free standing cranes low headroom design maximizes lift when headroom is at a premium.
Receipt of raw or semi-finished materials/parts
Storage of materials or parts
Loading operations
Simple installation with bolted connections
Perfect for pre-cast concrete buildings
Low Headroom
Standard hand-held radio control
Inverter controlled bridge with end trucks • VFD Crane Control
Conductor Bar Runway Electrification
Built to CMAA, AWS, ANSI & OSHA Standards
American made Steel and Componentry
Heavy Duty End trucks for Long Life and Ease of Use
Modular OLYMPUS® Free Standing Bridge Cranes are available in standard runway lengths of 20, 25 and 30 feet. Multiple cells can be combined for long runways; existing systems can be retrofitted with additional cells.